Open daily at 9802 Jasper Avenue. Call 780-429-0701 for reservations.
Welcome to Rigoletto's Restaurant

Rigoletto's was opened by Sergio Turlione and Jack Flisiak in 1986 on Rice Howard Way. Our strong Italian roots, authentic food and excellent service have made us popular and long-lasting with Edmonton patrons and the city's Italian community. Come and dine with us!
9802 Jasper Avenue
780-429-0701
We are open daily:
5 pm to close Sunday to Thursday
5 pm to 10 pm Friday and Saturday
Visit our PRIVATE DINING page for information about our inviting spaces for private parties and events.
Visit our NEWS page for events, updates, and special promotions.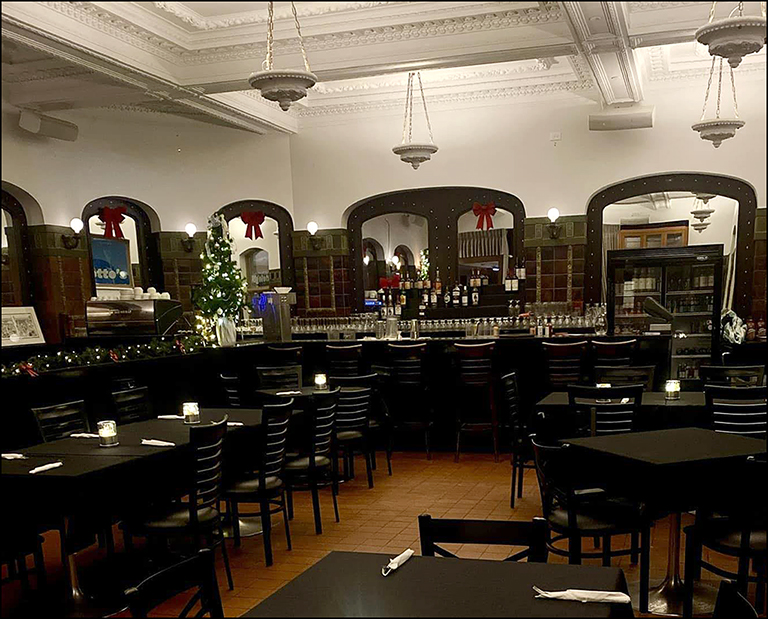 Rigoletto's Restaurant new location at the Alberta Hotel in downtown Edmonton
A landmark restaurant in an historic location! Rigoletto's has been a wonderful presence in Edmonton's downtown for 37 years. That alone is a mighty accomplishment in Edmonton's very competitive restaurant market. 
Chef/owner Sergio Turlione, inspired by his dear mother's southern Italian cooking, has made the art of the kitchen his life's passion. He's been cooking professionally since 1974. In 1986, after 12 years as chef at Bistro Praha, Sergio and partner Jack Flisiak opened Rigoletto's first location on Rice Howard Way. An arts aficionado and a loyal supporter of Edmonton events like The Works Visual Arts Festival and The Street Performers Festival, Sergio named his restaurant Rigoletto's because it is his favourite opera. He's enjoyed Verdi's operatic masterpiece Rigoletto many times over the years. He still enjoys a nice evening out with his wife Nella, to a play at the Citadel or a musical at the Winspear. It is a natural fit that Sergio brings Rigoletto's to the historic Alberta Hotel as a new neighbour to CKUA Radio. For well over three decades Rigoletto's has captured the attention and loyalty of a very diverse set of Edmonton diners. Everyone is made to feel welcome in a casual family atmosphere. 
"I'm from southern Italy and we make 'heart food'. It's peasant-style food and it's all about how you combine a few simple ingredients to create something heart warming. The key is to ensure you have the finest ingredients available. I won't compromise on that." The soul of the kitchen is Italian, but the restaurant is for everyone to come and socialize over a wonderful meal in an historic setting. 
Come and share Sergio's love affair with great food by joining us in our beautiful dining room warmly surrounded by the original Alberta Hotel's expansive bar, or book a personal event in one of Rigoletto's two private dining lounges. Great food is affectionately enhanced by sharing it with family or friends.